Which Colors help sell homes the fastest?
The right paint could be the difference between your house or someone else's when buyer's are making their final decisions.
Be Careful with White
White might seem like the best choice for several reasons. It's light, neutral, and makes a room look bigger. And it's one of the hottest trends for 2021. However, white is a notoriously difficult color to get just right.
There are very few "pure" white paints. Almost every white will have some sort of undertone, either cool or warm. The cool undertones can make a room feel sterile and coldly unwelcoming. The warm undertones can feel dingy or even dirty.
Still, if you're careful with the shade, white is a great option that will make your home look bigger, brighter, and more appealing to buyers.
Stick to Neutrals
Neutrals are your safest bet. Even if a potential buyer doesn't love your exact tone of gray, they won't feel like they have to run out and paint over it like they would, say, fuchsia. Unless you are selling your home As Is, you want them to feel like they can move right in with zero to very minimal effort.
You also want potential buyers to imagine their furniture and home decor in your house. This is much easier for them to do when the backdrop is neutral. Sure, you might find a home buyer who loves orange as much as you do, but the best interior paint colors for selling a house are neutrals that will appeal to the general public.
How many paint colors should I use?
As a general rule, you want to stick to as few colors as possible, even if they are all neutrals. Using the same color in more than one area will give your home an overall cohesive feel. It also makes your home seem bigger, since there is an easy flow from one room to the next. And, using just one paint color will also help keep your costs down, since buying your paint in bulk is much less expensive than buying multiple gallons of different colors.
In an open space layout, such as a combination living/dining room or a kitchen that opens into a family room, you should use the same paint color for the entire area. For individual rooms that are not part of the main living area, for example, bathrooms or bedrooms, you can add some variety with different colors. Keep in mind, however, that even in these rooms the best interior paint colors for selling a house are neutrals.
Which color should I choose?
The best colors are neutrals, but which one? For 2021, the general consensus for best interior paint colors for selling a house are shades of greige. Greige is a combination of gray and beige, more sophisticated than an old-fashioned beige and at the same time more welcoming than a somber gray.
Traditional gray is also a good neutral, in a deeper hue such as pewter. To make it more interesting and less formal, use a gray with a blue undertone. You can easily pair this color with blue decor accents (throw pillows, artwork), which appeals equally to male and female buyers.
Beige is not as chic as the currently trendy gray/greige colors, but it is also a popular choice for neutrals. For homebuyers, it is a safe color, and one that they know that they can paint over quite easily, should they choose to do so.
Painting Smaller Areas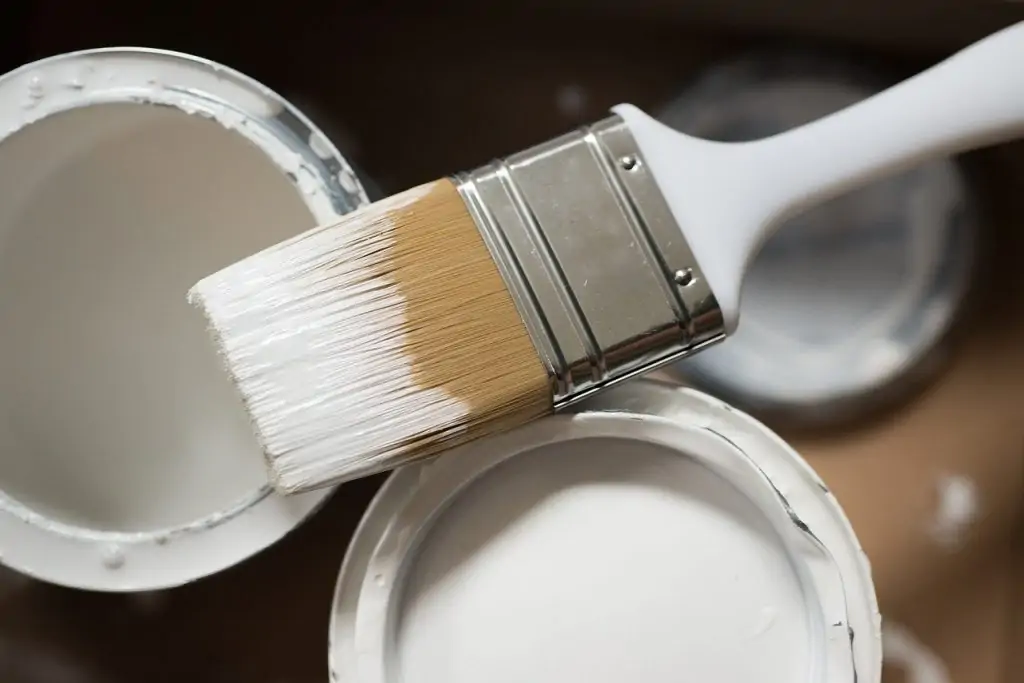 You can also paint smaller rooms in different colors, for variety and visual appeal. Neutrals are always a safe bet, but you can also have some fun with colors.
Bathrooms
Pale blue is a great option for making a smaller room, such as a bathroom or laundry room, feel lighter, friendlier, and more spacious. Avoid white — houses with white bathrooms on average sold for $4,035 less.
Kitchens                                                          

The heart of a house, you can have fun with paint or accent colors in the kitchen. A light, almost neutral green (think mint or soft sage) is a great way to enhance a kitchen. Or, play it safe with a white or gray neutral.